Section 1 | What is Antimicrobial Stewardship?
Antimicrobial Stewardship
Page 04 /
The 5 "Rs" of Antimicrobial Stewardship
What is Antimicrobial Stewardship?
Stewardship is the act of taking good care of something. When thinking of stewardship, there are many important words that come to mind: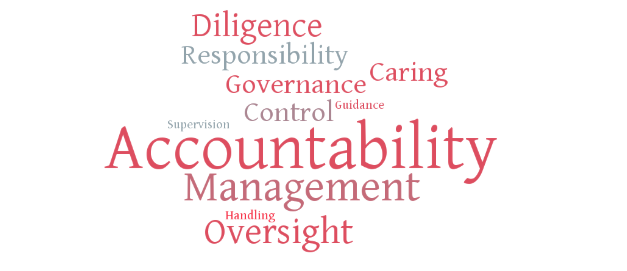 When we use the term "antimicrobial stewardship" (AMS), we're talking about:
Being proactive
Supporting optimal animal and human health
Exploring ways to reduce overall use of antimicrobials
Using the drugs that prevent and treat disease by killing microscopic organisms in a responsible way
A major goal of AMS is to prevent the generation and spread of antimicrobial resistance (AMR). Doing so will preserve the effectiveness of these drugs in animals and humans for years to come.
The relationship between the level of antimicrobial use (AMU) and the generation of AMR bacteria has been extensively studied — the more antimicrobials we use, the higher the resistance.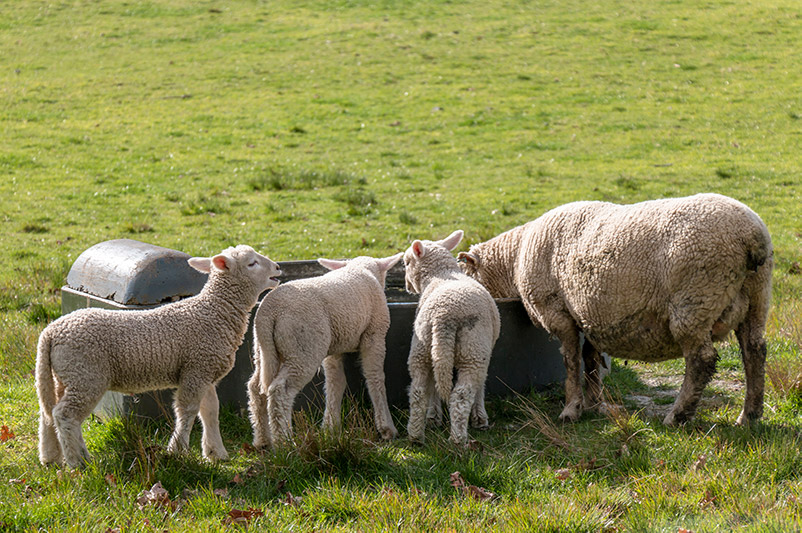 Antimicrobial Stewardship for a Sustainable Tomorrow
AMS is a mindset: It is all about setting a general action plan, with the ultimate goal being to preserve human and animal health and the effectiveness of antimicrobial medications.
To foster a culture of continuous improvement, experts have recommended the 5 R approach to AMS: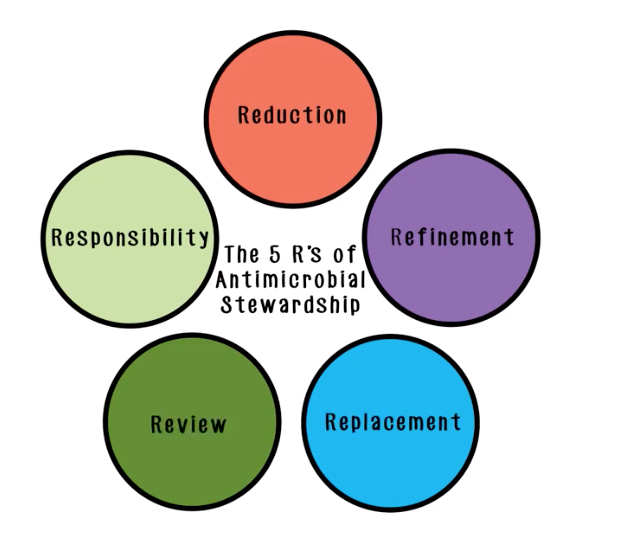 Responsibility

Everyone who uses antimicrobials acknowledges that use can cause harm beyond the animal being treated. Any time we use these drugs, the reward should outweigh the risk. When we do use an antimicrobial, we should take actions that reduce the risk for future animals and the public's health

Reduction

Whenever we can, we need to look for ways to reduce our reliance on antimicrobials

Refinement

When we use antimicrobials, we should ensure that we are using the right drug, at the right dose, at the right time, treating the right bug, for the correct length of time

Replacement

Consider non-antimicrobial products that could be used to promote good health and prevent disease

Review

Everyone on the farm management team (owners, herdspeople, nutritionists, veterinarians, other advisors) needs to sit down and look at farm records on a regular basis. When we do this, we should be critical of every instance that an antimicrobial was used and decide on a specific strategy for making further improvements and reductions in use
It is important to realize that these distinctions are not mutually exclusive — they are all intimately interconnected. Efforts to replace antimicrobials with other products should naturally lead to a reduction in antimicrobial use without compromising animal health or welfare.

Taking responsibility for the antimicrobials used on your farm (e.g. through the keeping of excellent medical records) goes a long way to enable the review process, and hopefully a targeted reduction in antimicrobial use. With this in mind, we will get into detailed discussions of the 5 R principles of stewardship and how they may be practically applied on your operation.
Veterinary Antimicrobial Stewardship: More than just a prescription